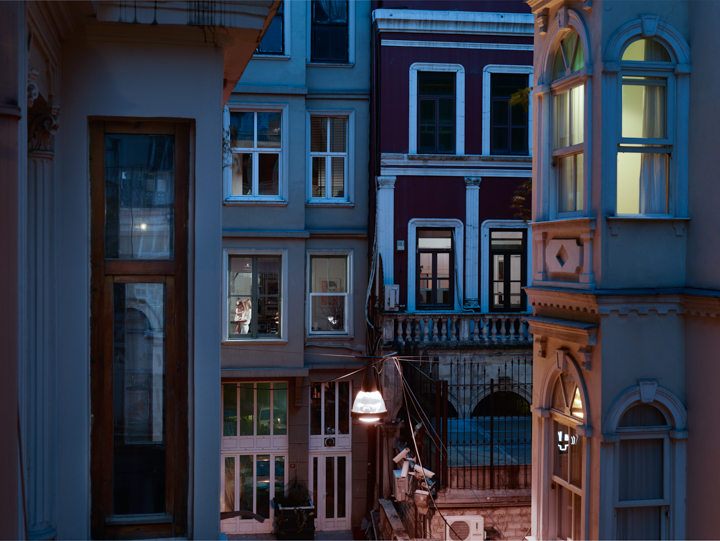 Gail Albert Halaban | OUT MY WINDOW
Curated by Francesca Malgara 
| Opening May Wednesday 29th | 18 – 21
| In connection with the show, there'll be a book signing of the catalogue "Italian Views", which will be published by Aperture in April 2019.
Dal 28 maggio fino al 5 luglio 2019, gli spazi della galleria Podbielski Contemporary ospiteranno Out My Window, mostra che presenta il frutto di lungo lavoro maturato da Gail Albert Halaban, fotografa americana, la quale attraverso una serie di fotografie scattate in giro per tutta l'Italia racconta le loro storie, i silenzi, le fantasie, le numerose sfumature delle architetture, le relazioni tra le persone, le amicizie e gli amori, che in città come Venezia, Milano, Firenze, Roma, Napoli e Palermo, vanno a coronare una bellezza senza tempo ma allo stesso tempo contemporanea, una romantica visione dell'Italia.
Il progetto delle "views" è cominciato 15 anni fa, durante le notte insonni trascorse ad allattare la figlia: il negozio di fiori dall'altra parte della strada era diventato il suo mondo e il vivavai dei clienti un gioco della mente da immortalare senza sosta. Ne è nato il primo libro nel 2012, "Out My Window". Due anni dopo seguito da "Paris Views".
La maggior parte degli scatti esposti nella mostra proviene da Italian Views, continuazione della serie di Gail Albert Halaban Out My Window, attraverso intimi ritratti domestici che si affacciano sullo sfondo cinematografico della città. Qui, Albert Halaban sposta la sua attenzione da Parigi verso l'Italia, fissando il suo sguardo attraverso le finestre degli altri nelle comunità di Firenze, Milano, Venezia, Palermo, Napoli e Roma. Attraverso l'obiettivo di Albert Halaban, lo spettatore è accolto nella vita privata della gente comune. Questa serie ha appena visto la pubblicazione del volume da parte di Aperture, uscito con una prefazione della scrittice newyorkese Francine Prose.
Le sue fotografie esplorano le convenzioni e le tensioni degli stili di vita urbani, i sentimenti di isolamento nella città e le intimità della vita domestica e quotidiana. In coppia con le fotografie sono brevi vignette di Albert Halaban che immagina ciò che i vicini potrebbero vedere dei suoi soggetti su base giornaliera. Il meraviglioso saggio di Francine Prose parla del curioso brivido di essere uno spettatore. Questo invito a immaginare la vita dei vicini attraverso Windows rende i personaggi e le impostazioni personali e misteriosi.
Gail Albert Halaban(nato a Washington, DC, 1970) ha ricevuto un MFA in fotografia dalla Yale University. Ha insegnato al Pasadena Art Center e al Centro Internazionale di Fotografia, ea Yale, tra le altre importanti istituzioni. È stata inclusa in entrambe le mostre collettive e personali a livello internazionale. I suoi libri precedenti includono Out My Window (powerHouse, 2012) e Gail Albert Halaban: Paris
Views (Aperture, 2014).
Ingresso libero: dal lunedì al sabato | h 14.30 – 19